A brief history relating to the production of "SIGMA" original hand pumps...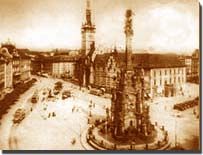 "Sigma" hand pumps were first produced in 1868 in the small village of Lutin near the historic town of Olomouc (seen left) , of the then Czechoslovakia.


First factory production included wooden and iron stand pumps for sunken wells, pumps for town and village inhabitants, rotary, plunger and the famous type "K" wing pumps.




The "Sigma" engineers and factory workers kept pace with rapid developments in every branch of the pumping industry and became highly acclaimed for their design of progressive equipment and by the turn of the century, the production portfolio included centrifugal and diaphragm pumps with electrical or other mechanical drive. Progress continued on mechanised irrigation equipment, pumps for the chemical and petrochemical industries, whole pumping installations for power stations and finally, pumps for nuclear power stations.



The production of type 'K' hand wing pumps was transferred from the village of Lutin to Olomouc in the early 1900's. The factory was then known as the Sigma Olomouc Concern Corporation.